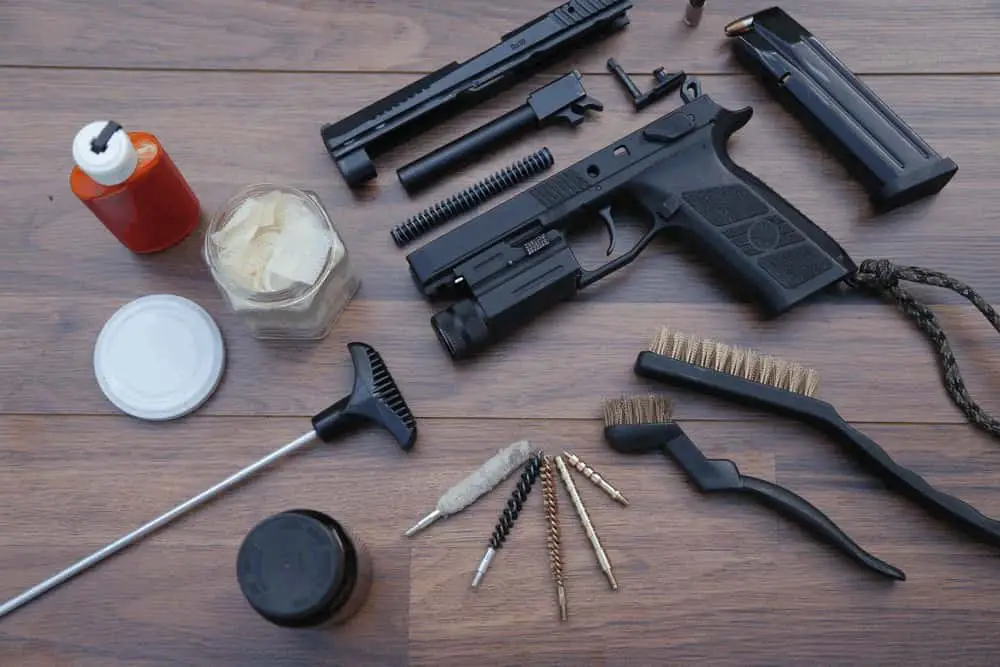 After purchasing a firearm, you might wonder how often you should clean your gun. The truth is that it largely depends on how often you use it and where you live. Keep reading to learn more.
How Often Should You Clean Your Gun?
The short answer: do a light cleaning after every shooting session and a deep cleaning a few times a year. If you shoot every weekend then you will need to deep clean more often.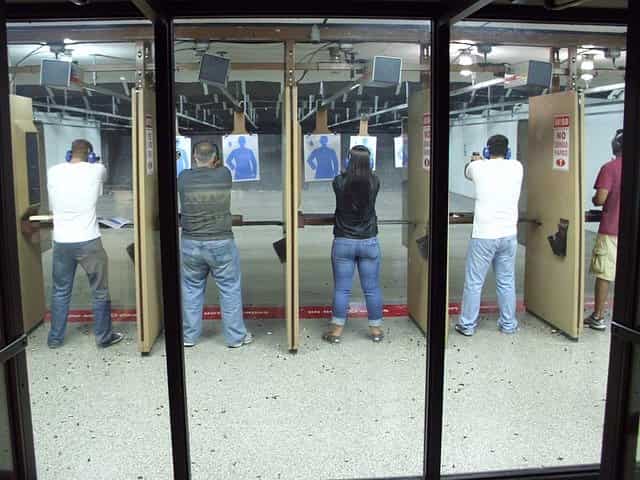 A light cleaning consists of running a few patches dipped in a lubricant cleaner through the bore and over the slide.
How Often Should You Oil Your Gun?
There are two different reasons to lubricate your gun. If you engage in intense range sessions on a regular basis, it is a good idea to clean and oil your weapon at least once a week. However, if you simply conceal carry without ever firing, you can likely get away with once every two weeks or once a month.
Where you live makes a difference, too. Moisture is the enemy of working guns, so any time spent in a humid environment should be taken into consideration. In that case, stick to a weekly clean and lubricate schedule.
What Happens If You Don't Clean Your Gun?
Not cleaning your gun on a regular enough basis is pretty much a sin in terms of what most gun owners believe. While it's okay to skip a session now and again–hey, life happens–this isn't something you should really make a habit of. Instead, try to stick to cleaning at a minimum at least a couple times per month.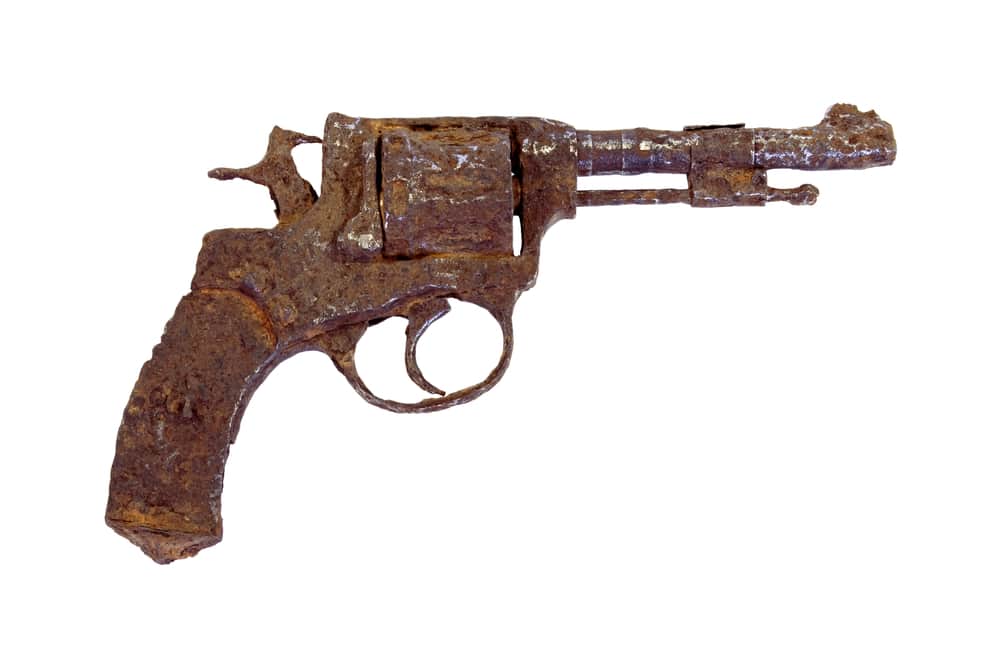 Dirty guns can lead to parts inside rusting and even fusing together. Ultimately, this can lead to the handgun misfiring or not working as well as it should. If you conceal carry, these issues could mean not having your weapon when you need it most.
Is It Bad to Clean Your Gun Too Much?
This is one of those questions that really has two meanings. No, you cannot damage your gun by cleaning it too often. Each time you do a cleaning session, you're removing harmful debris and residue that causes damage. So, in this sense, there's no such thing as too much.
But, it is possible to clean your handgun wrong too many times. Using the wrong type of brushes or not lubricating with the right oil can lead to damage to the frame or various parts. In turn, this makes them more susceptible to rust and can eventually make your pretty pistol absolutely worthless. So, it pays to use caution and care to ensure you're taking the right steps while cleaning your handgun each time.
How Do You Clean a Handgun?
Start by working in an area that is ventilated. Some of the chemicals used during the process can be a bit strong and the fumes aren't exactly fun to breathe in. Cover your workspace with a trash bag or an old towel for added protection.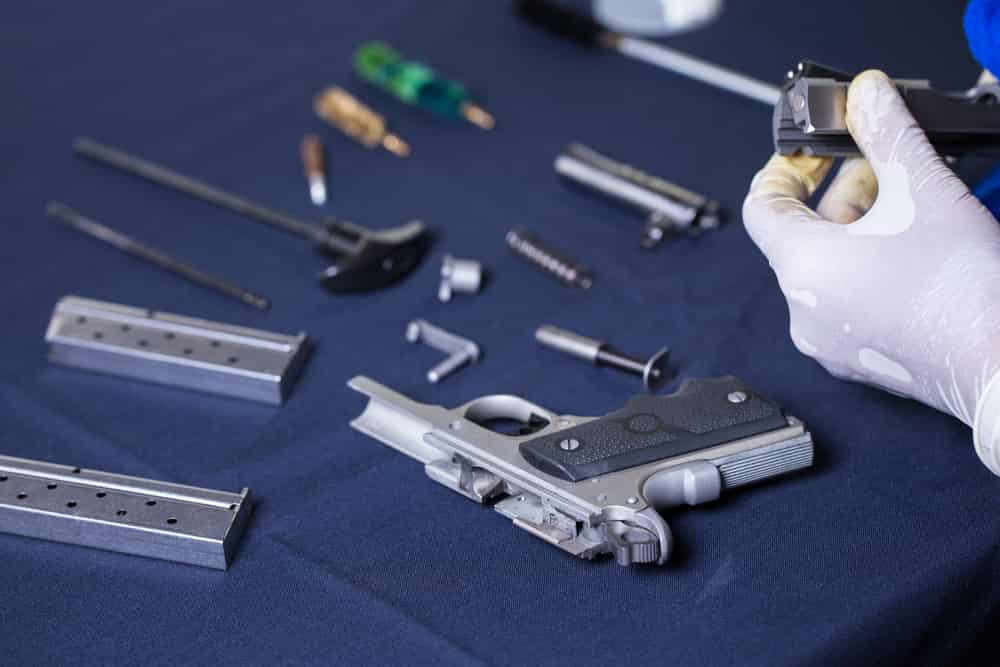 Next, make sure the gun is completely unloaded and make sure all ammunition is put away. Begin the field-stripping process of disassembling the handgun for cleaning. While you might be tempted to completely take it apart, this isn't necessary. Revolvers and semi-automatics each have their own configuration for doing this, so make sure you read your owner's manual or do a quick web search to find out how far to disassemble the weapon.
As you start to clean, make sure to pay attention to several key areas. The interior of the barrel should be one of your top focuses and can be cleaned using a bore brush attached to your cleaning rod and solvent. Make several passes through while rotating the brush to remove material left behind from shooting use. If you have to add more solvent along the way, that's okay.
Once that's done, remove the bore brush from the cleaning rod and attach the patch holder. Run the patch through the barrel a few times, replacing patches if they look especially dirty. When finished, use a nylon brush and more solvent to clean all other areas of the handgun.
Finally, complete the process by adding a few drops of gun oil to areas where rubbing is most prominent. Again, this will vary from one style of handgun to another, but you get the basic point. Reattach all parts and your handgun should be as clean as almost new!
What Are the Best Products to Use for Cleaning a Handgun?
To clean a handgun thoroughly, you'll need a basic kit of supplies designed specifically for this chore. You have two choices in this matter: purchase a premade kit or assemble your own.
Most gun enthusiasts find products that they like over the years and choose to collect them together on their own. But many newbies find the ease of having everything together in one kit highly convenient.
A few options of products to use to clean your handgun include:
Hoppe's No. 9 Deluxe Gun Cleaning Kit: This set includes everything needed to clean your handgun including rods, brushes, lubrication oil, and solvent.
Pro-Shot Products Classic Box Kits: Each of the available box kit is designed for a different type of handgun, giving you the option to choose the one that matches your firearm.
Remington Premium Lubricant: A favorite of gun enthusiasts and military service members around the globe.
How Deeply Do You Need to Clean Your Firearm?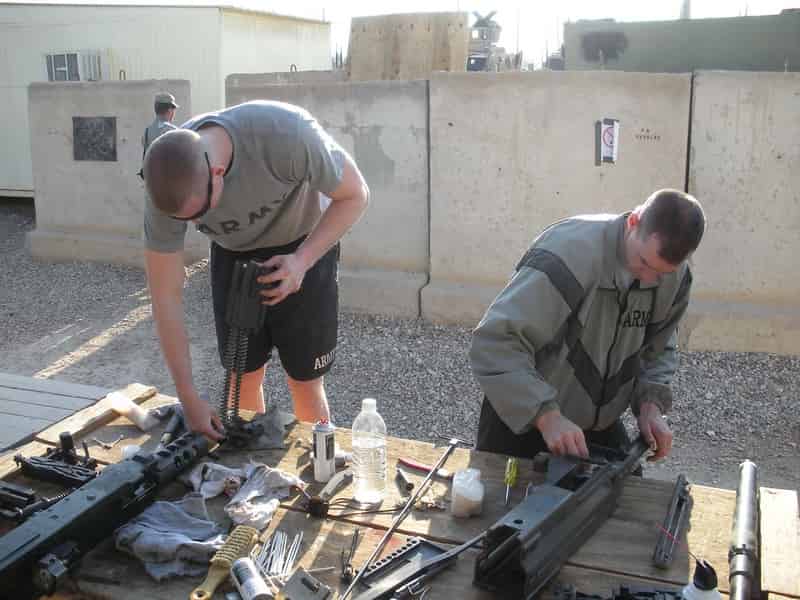 Deep cleaning a firearm is also highly subjective. In most cases, getting the inside of the barrel, cleaning and lubricating the slide, and thoroughly wiping down all exterior parts is sufficient enough.
But what if you use your weapon on a fairly regular basis, such as during hunting or extended afternoons at the range? Then it is even more important to get inside that barrel, clean up the residue with solvent, and lubricate all areas appropriately.
Do You Need to Clean a Gun You Don't Use?
This is a question a lot of people wonder about. Yes, you do need to clean a gun you don't use. Dust and debris can still get inside the chamber, even if it is locked safely away in storage. The only difference is that you might not have to go through the process as often.
For example, if you never shoot your gun and only take it out of the case a few times a year to show it off, you can probably get away with cleaning it once or twice annually. Any more than that and you need to adjust your schedule accordingly.
Have you ever thought about buying ammo online?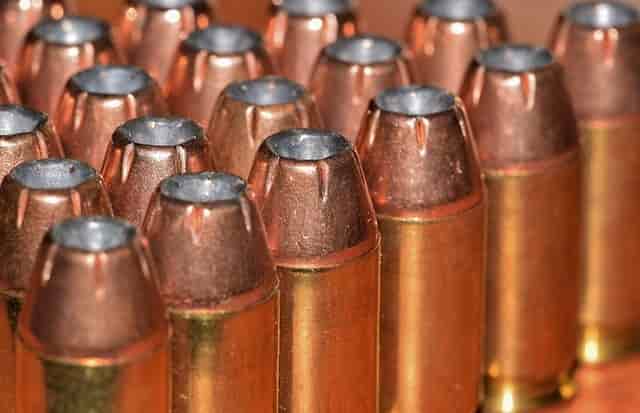 I'm telling you it's so easy with Lucky Gunner! The ammo shown on their site is guaranteed to be in stock and will ship fast. I heartily endorse Lucky Gunner and so do their many customers.
"Okay, so far I've dealt twice with LuckyGunner, and all I can say is, I LOVE YOUR COMPANY!!!!

Imagine: only items in stock are advertised. Who'da thunk, eh? The more highly advertised ones – Cheaper Than Dirt, Cabela's, et. al. – will put you on backorder forever and a day. But LuckyGunner – I ordered 500 shells of .45 ACP (hard to get in this "shortage") – and there it was at my address. No backorders, no bull. Business as it should be.

Yes, I'm telling my friends! I'm constantly writing down your addy on bits of paper (and running out of the latter), spreading the joyous news, "No backorders! No bull! Try LuckyGunner.com, you won't be sorry!" Thank you for being there for an ammo-starved public. And, thanks for the SUPERB customer service."

— Walter J., Silverdale, WA —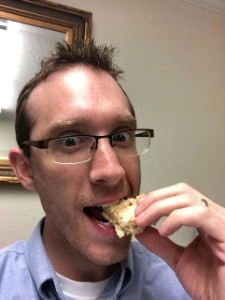 Jason Huskey
Owner of CCWClasses.net
Jason Huskey is a family man with three kids and a wonderful wife. He's always starting new hobbies, but his true passion lies in shooting sports. Jason has been a CCW license holder for over 10 years and carries every day. In addition to firearms, he also enjoys playing guitar and writing songs. He tries to live by the Christian values he believes in.
More things you might enjoy…
Image by MikeGunner from Pixabay I've long since discovered that very few activities give me the same thrill and sense of security as firing a gun. As a gun owner and enthusiast, I've always been curious about which guns can shoot which kinds of ammunition. I have a Derringer five-shot revolver that uses .22 rounds.…