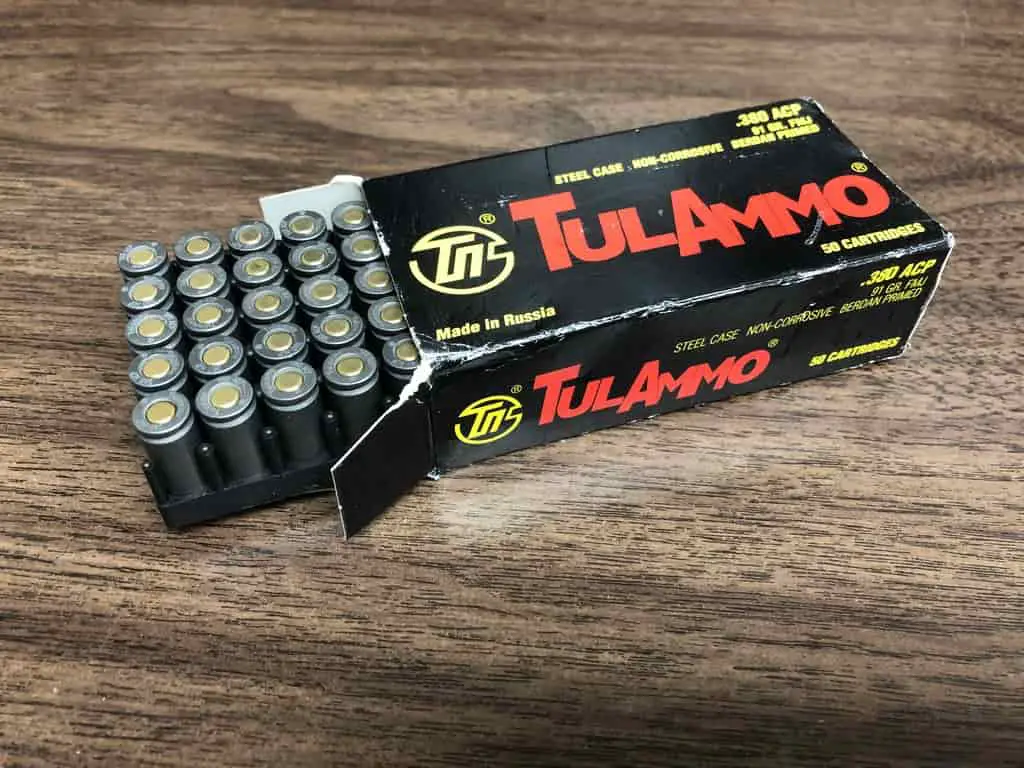 Over the years, I have tried many different brands of ammunition in order to find the best one to use at the range, and I have ended up deciding that Tulammo is great for plinking.
I go shooting as often as I can. Now, the number one problem I have when hitting the range is that ammo can be so expensive. The cheap price is a huge plus when it comes to buying Tulammo, but it is not the whole reason to purchase this ammo.
History of Tulammo
The company that makes Tulammo is known as the Tula Cartridge Works, and it is one of the largest manufacturers of small arms ammunition.
The company was founded in 1880 when Emperor Alexander II proclaimed that an ammunition factory was to be built in Tula. It only took the company two years to hit the production capacity of over 30 million cartridges with over 25% of the ammunition being used by the Russian Army during World War I.
In World War II, the Tula Cartridge Works ended up being one of the biggest suppliers for the Russian Army.
Tulammo is now one of the best-known brands of ammunition all around the world, especially in its home country of Russia. This brand of ammunition is greatly enjoyed by people who love to shoot lots of rounds. Yearly, this company is known to export well over 500 million rounds.
What is Tulammo made out of?
When Tulammo originally started manufacturing ammunition, they made them with brass cases, but that changed in the 1920s. They decided that they should do more to help conserve precious metals, such as copper, and started using steel.
Russia was already known to have large reserves of steel, and they made use of this cost-effective metal to make their ammunition cheaper, which meant they could sell them cheaper than a lot of their competitors.
The casing of the ammunition is made out of soft steel that has been heated and cooled in order to make it softer, but it does not make the casing weaker and more likely to cause problems as some people believe.
The ammunition is loaded with powder and primers that are non-corrosive in order to prevent damage to your gun. I can assure you that I have never had Tulammo damage any of my guns.
Here is an excellent description of Tulammo from Ammo.com:
The cartridges themselves have polymer-coated steel casings, bi-metal bullets and non-corrosive primers. Polymer coating on the cases, as opposed to lacquer coating, increases shelf life and provides more reliable functioning. The bi-metal bullet has a lead core wrapped in steel and is coated in copper. TulAmmo meets the specifications of SAAMI and CIP.
Does Tulammo actually damage your gun?
The short answer is no. Although some people say they have to clean their guns more often when using Tulammo.
First, as I have said, the casing of the Tulammo is made out of steel that has been carefully softened. This means the ammunition will be safely ejected from your gun without causing damage.
Secondly, Tulammo uses noncorrosive primers and powders which prevents corrosion from the propellants of the ammunition.
How is Tulammo's accuracy?
The accuracy of any ammunition will be a little different for each gun. It's certainly not match grade ammunition but it's good enough for a fun day of plinking.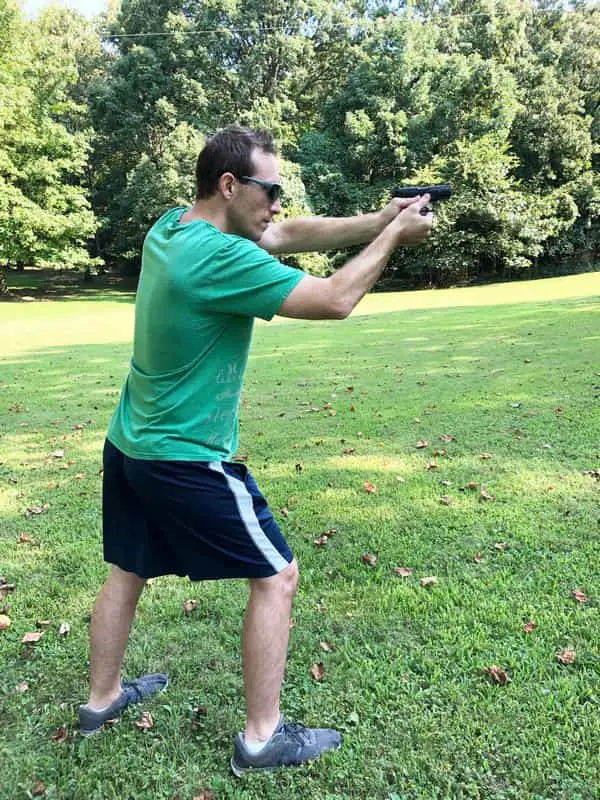 How reliable is Tulammo?
Tulammo is great ammunition for someone who loves to go to the shooting range and wants to save some money. It may not be the best choice for hunting or defending your home.
I have not had any failures to fire(FTF) but I have had a few failures to eject(FTE). But I believe the main cause for this is that I was shooting a dirty gun.
I'm a terrible procrastinator when it comes to cleaning guns and because of that I have had FTE's with other ammunition such as Winchester and Federal as well.
What do other reviewers think of Tulammo?
Below are several Tulammo reviews done by different people about their most popular round, which is a 223 Remington 55 Grain Full Metal Jacket (Bi-Metal) with a steel case.
Most Liked Positive Review
This review was given by a man named Dan that lives in the United States of America, and he gave the review over 3 years ago.
"I been shooting this for a while now and really like this stuff. I like that you can buy these by the 1000s. Spend a day at the range and not feel guilty about it.
I do notice that you have to pay extra attention to certain areas of your rifle for this to run 100%. Most particularly the chamber walls, and your extractor groove where it catches the rim. If you are having trouble with stuck shells in the chamber, I recommend trying to clean these areas.
Best way to clean the extractor groove is with a pick and brush. Make sure it is clear of old buildup.
Best way to clean the chamber is with a non-rotating t-handle rod and a brass chamber brush. Just put it in the chamber, and rotate several times with a good solvent.
Use beauty cotton swabs (ear swabs) and patches in between cleaning the chamber with the brass chamber brush for a few times, even if you can't see anything. At the range I can shoot 200-300 rounds no issue whatsoever and could continue so but didn't brought enough ammo.
I have a partner at the range who cannot run this until he did the above steps because it got stuck in the chamber and had to hit it out with a rod. It ran 100% the next time.
He's buying Tulammo now as well since it's so cheap and has been running 100% since he's been paying attention to those cleaning areas.
As far as how dirty this ammo is, I found the following with my rifle. The bore is not as dirty as brass (maybe even cleaner), however, the chamber and the locking lugs are dirtier than using typical American ammo.
The bolt face and extractor grooves are very dirty as well. I believe it has to do with the fact that the steel case is not expanding like brass, so carbon is building up around that area more because there isn't as much of a seal.
The bolt carrier group appears like normal build up as well as everything else. Otherwise I recommend this. I hope I helped some folks who are having trouble. Don't give up, you can save a boat load of cash at the range with this ammo."
Most Liked Negative Review
This review was given by a man named Bret that lives in Colorado, and he gave the review over 2 years ago.
"Got this ammo for the price point since I put a lot of rounds down range every month. Shoots pretty well, accuracy not too bad for sub 100 yards.
However, it is steel cased and will wear gun parts faster than brass. Also this ammo is filthy dirty! Shoot a couple hundred rounds of this and you'll be cleaning your rifle for a while.
If you're ok with the dirty powder and ok with the excessive wear, it's cheap for sure. I'm reloading 223 now so I can reload cheaper than steel case Tul Ammo.
If you shoot high volumes of rounds I'd look into reloading as your long-term solution."
Another Negative Review
Why I don't like Tula Ammo
I hear a lot of people say to stay away from Tula ammo due to reports of it being steel cased and causing issues with extraction. I have experienced those exact things myself. It's been the only brand that has ever caused me problems, but it could be a fluke thing.
However, I still don't like tulammo because the primer pockets always get loose and start causing failures to fire. I'm not talking about one or two bullets, but every other bullet in a box has issues. This has been the same for me no matter if it was .308, 7.62×39, .223, 9mm etc.
Another Positive Review
Why I like Tula Ammo
I am not trying to convince people that tulammo is the best ammo in the world.  It's low cost and it works.  Just like a Toyota or Honda, tulammo is reliable.    
It is well known that tula ammo is made with a metal jacket. This is why it is so inexpensive compared to other ammo. If you are on a budget or just shooting for fun, you will see savings with Tula Ammo.
Closing Thoughts
When it comes to plinking or blasting ammo, Tulammo is one of the best you can find. You just need to make sure your local gun range will allow steel-cased ammo before you purchase it.
It might be very cheap ammo, but after reading this Tulammo review, you can now see that it is great ammo that works great at the gun range and should not damage your gun.
Have you ever thought about buying ammo online?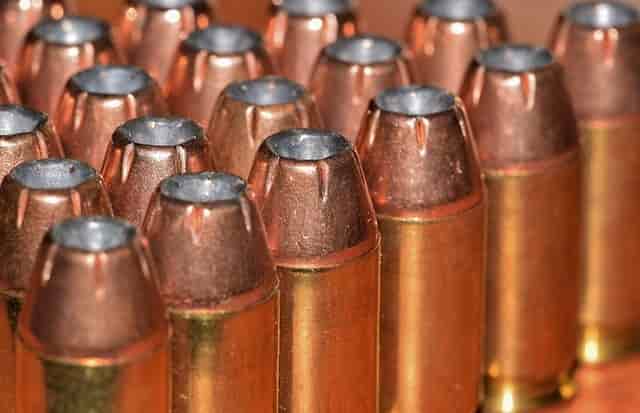 I'm telling you it's so easy with Lucky Gunner! The ammo shown on their site is guaranteed to be in stock and will ship fast. I heartily endorse Lucky Gunner and so do their many customers.
"Okay, so far I've dealt twice with LuckyGunner, and all I can say is, I LOVE YOUR COMPANY!!!!

Imagine: only items in stock are advertised. Who'da thunk, eh? The more highly advertised ones – Cheaper Than Dirt, Cabela's, et. al. – will put you on backorder forever and a day. But LuckyGunner – I ordered 500 shells of .45 ACP (hard to get in this "shortage") – and there it was at my address. No backorders, no bull. Business as it should be.

Yes, I'm telling my friends! I'm constantly writing down your addy on bits of paper (and running out of the latter), spreading the joyous news, "No backorders! No bull! Try LuckyGunner.com, you won't be sorry!" Thank you for being there for an ammo-starved public. And, thanks for the SUPERB customer service."

— Walter J., Silverdale, WA —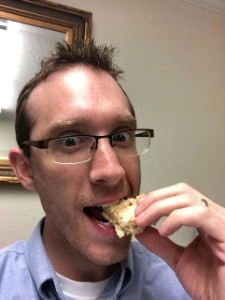 Jason Huskey
Owner of CCWClasses.net
Jason Huskey is a family man with three kids and a wonderful wife. He's always starting new hobbies, but his true passion lies in shooting sports. Jason has been a CCW license holder for over 10 years and carries every day. In addition to firearms, he also enjoys playing guitar and writing songs. He tries to live by the Christian values he believes in.
More things you might enjoy…
Image by MikeGunner from Pixabay I've long since discovered that very few activities give me the same thrill and sense of security as firing a gun. As a gun owner and enthusiast, I've always been curious about which guns can shoot which kinds of ammunition. I have a Derringer five-shot revolver that uses .22 rounds.…