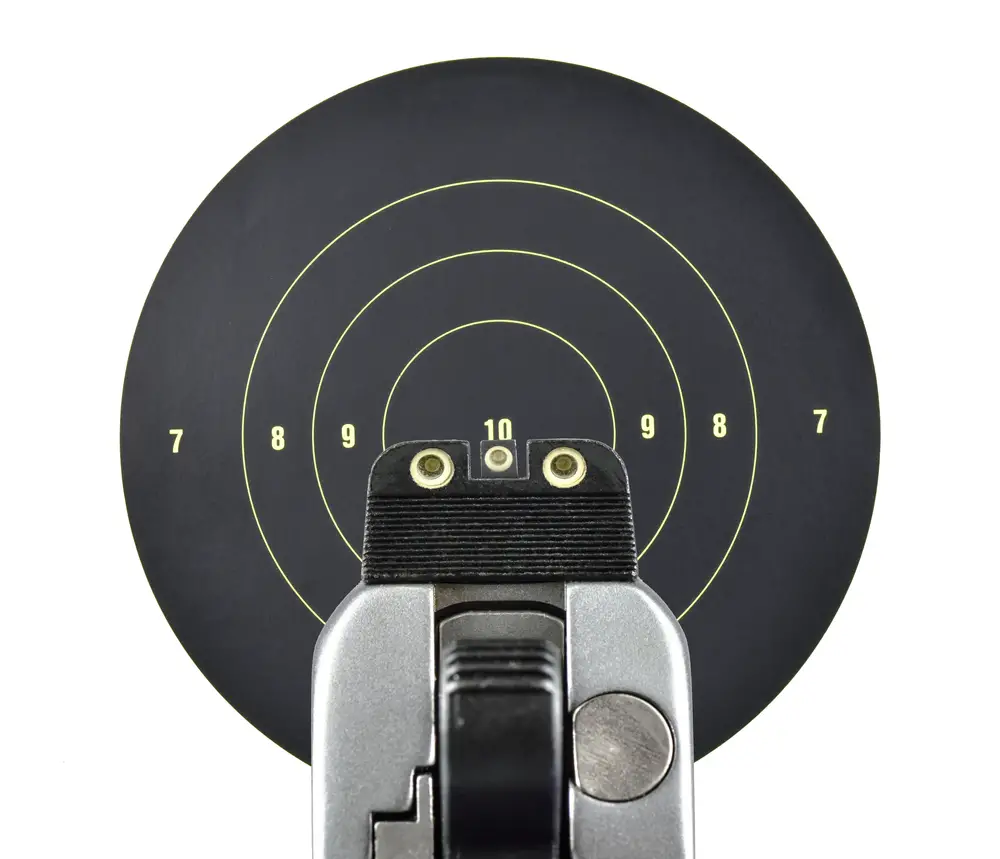 When you first became interested in shooting you probably heard the terms sight picture and sight alignment being thrown around. Most people tend to use the two terms interchangeably; however, they do not mean the same thing.
In this guide, I will make a clear distinction between sight picture and sight alignment.
To master any new trade, you must first learn the rules of the game, and being a great shooter is no different. This article will help you gather a deeper understanding of the terminologies and best practices that will sharpen your marksmanship.
What Is The Sight Picture?
Sight picture is the proper sight alignment while aiming at your target. To make it even simpler, sight alignment precedes sight picture.
As a concept, sight picture occurs when the sights are perfectly aligned with the target. Sight alignment only amounts to half the aiming equation.
You might have a great grip, and your sights might be impeccably aligned with the rear sight aperture (all factors that contribute to a perfect sight alignment), but your shot may still not hit the target.
Why?
For a perfectly-aimed shot, you must make sure the sights are properly aligned and squarely aimed at the precise spot on the target that you intend to hit.
What is Sight Alignment?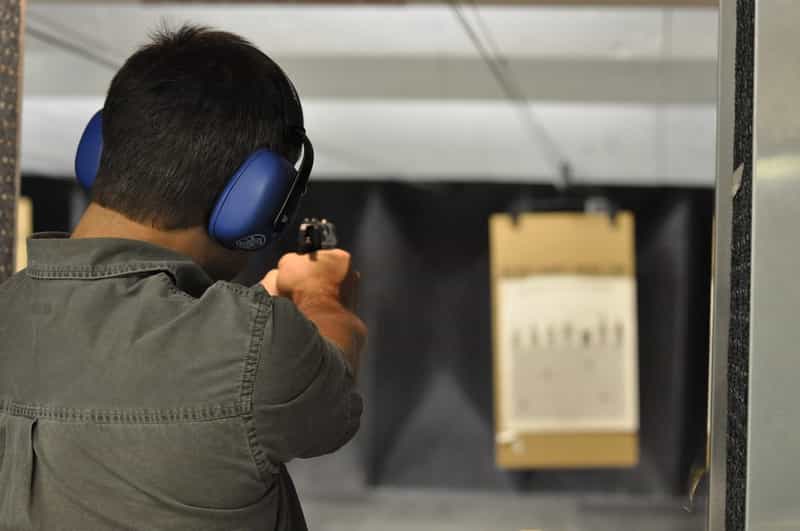 Long before the innovation of laser pointers and red dots, the sole way of aiming a handgun was by using iron sights.
Iron sights differed from pistol to pistol and from one manufacturer to another. Most designs had a rear aperture and a single post mounted on the muzzle. The rear aperture was mounted on the opposite end of the single post and helped the pistol users find the appropriate sight alignment.
The perfect sight alignment is achieved when the shooter aligns the rear aperture sight with the front sight post.
As you align your eye with the rear aperture, the front sight becomes visible. Once aligned, the space on either side of the sights should be equal, and the top of the front sight must be even with the edges of the rear aperture. Before shooting, you will focus more on the front sight post.
Sight alignment can be summarized as to involve the following:
Holding the handgun properly
Finding the sights
Aligning your rear sight with the front sight post
Despite the distinction between sight picture and sight alignment, they both rely on your eye. Now, let's explore how your eyes impact the accuracy of your shot.
Should You Close One Eye Or Leave Them Both Open?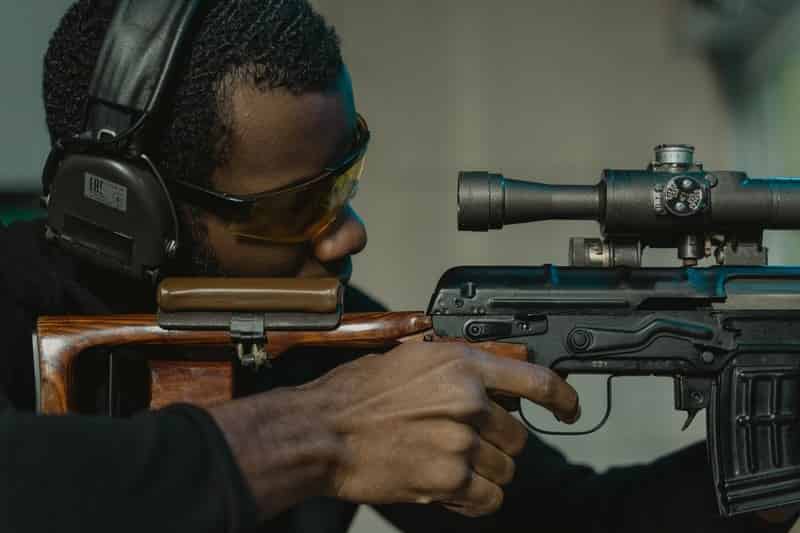 Just like we have dominant hands, we also have dominant eyes. This means that one eye is dominant over the other in the same way you are either right-handed or left-handed.
It is important that you understand the concept of eye dominance, for it is critical in marksmanship.
The term, "dominant eye", refers to which eye your brain prefers to receive information from. So, what is the impact of using a dominant or non-dominant eye?
If I align my sights with the less dominant eye, I will hit my target to the side of the precise spot I aimed at. For most people, their dominant eye matches their dominant hand. If you are right handed your dominant eye will usually also be the right eye.
However, some may be cross-eye-dominant where you write with the right hand, but your left eye is your dominant eye. Having cross-eye-dominance necessitates more hours of practice to perfect marksmanship.
Given this information, the answer to whether one should close one eye or not is, "If possible train to shoot with both eyes open." You need to realize that some situations require full situational awareness, and having one eye closed will reduce peripheral vision.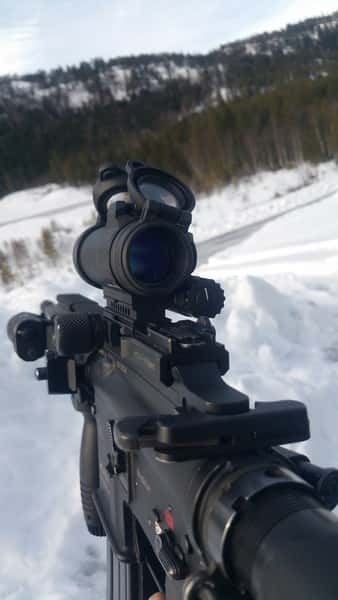 When I began training with both eyes open, I experienced double vision when trying to focus on the target. If this happens, you may have to close one eye and work with your dominant eye.
When training with the non-dominant eye closed, eye dominance may still not have a huge impact since the gun is an independent object, and as long as your sights are perfectly aligned with the target, you will trick it just right.
If you happen to have cross-eye dominance, you have to slightly shift your head from the center to allow the dominant eye a clear view of the sights.
For beginners, it is advisable to start training with the non-dominant eye closed as this helps you get clear sight pictures and understand exactly what you are seeing when shooting.
Sight Holds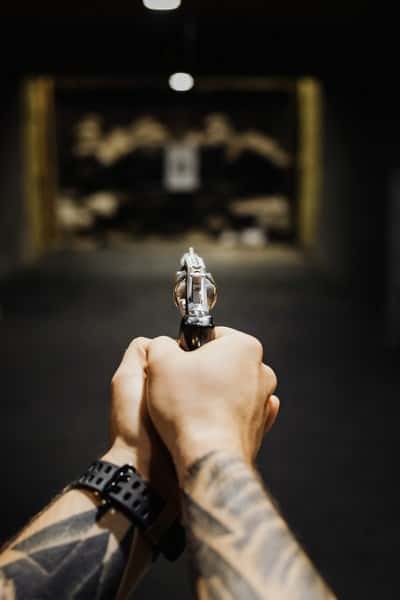 To further advance one's marksmanship, it is important that the shooter understand how the particular handgun was designed to perform.
While the sight alignment remains constant, the sight picture changes with distance and from gun to gun. Different sight pictures are known as sight holds.
Each handgun is designed with a specific sight hold in mind. Since all pistols are not designed with the same preferred sight hold, you will have to test your gun to assess the sight hold that performs best.
Below are some of the common sight holds in reference to a bullseye target.
Combat Hold
It is also known as "frame hold," and in this sight hold, the middle of the front sight post covers the bullseye entirely. The center of the sight covers the center of the bullseye. Some handguns that use the combat hold include the SIG Sauer and Glock pistols.
Center Hold
With this sight hold, the top of the sight post divides the bullseye horizontally.
6 O'clock Hold
The top point of the sight post is positioned below the bottom of the bullseye. Some people refer to this hold as "pumpkin hold" or "lollipop hold."
Irrespective of the manufacturer's intended sight hold, the shooter can always opt to use a different hold depending on the situation and preference.
Defensive Shooting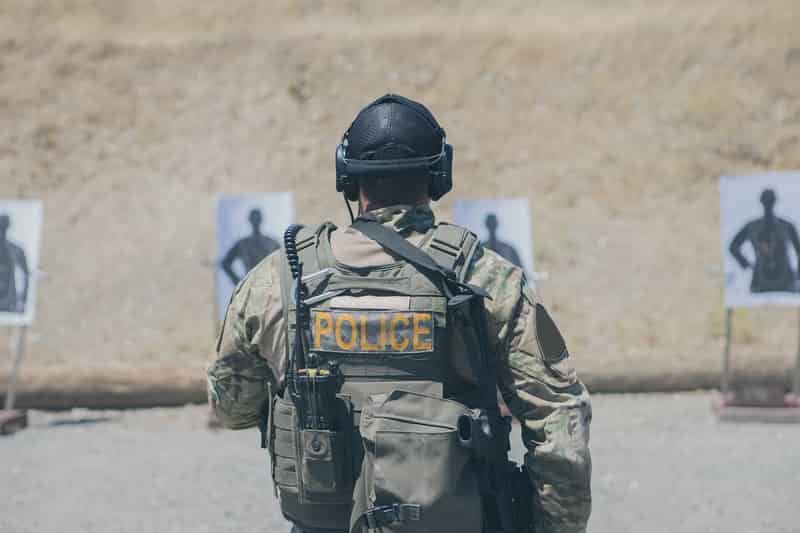 While having to use a gun is not a situation that most people want to find themselves in, it is something we must train for.
During training you will have enough time to align your sights and pick your sight picture. But real defense situations will be a little bit different.
It's silly to think the bad guy will wait for you to align your sights and pick the perfect sight picture. So, in such a situation, you will revert to your lowest level of training.
So train hard and always be safe!
In my assessment, the combat hold is best for defensive shooting or in real-life defense situations. The center hold and the 6 o'clock hold will waste your precious time as you try to bisect the target with the top of the pistol's front sight or aligning the top of the front sight with the target as this calls for great concentration and precision.
Instead, just align your sights and aim them at the center of the bad guy's mass. The combat hold will only require sight acquisition, which is faster, meaning the defense is super-fast.
Are sight alignment and sight picture the same?
No, they are not. Sight picture is what you see when you look through the rear sight aperture at the front sight and the target.
Sight alignment is a component of your sight picture that consists of two relationships: 1) the relationship between the center of the front and rear sights and 2)the relationship between the top edge of each respective sight and its bottom edge.
How to improve sight picture when shooting a gun
The two essential things that must be done in order to get a proper sight picture are:
1. Align your sights by centering the front blade within the rear aperture. If you do not, you will miss to one side or another of your target regardless of how well you hold the gun—a common mistake among beginning shooters.
2. Place both irises (the black part inside your eye) onto the front blade and fully concentrate on it while holding it still at arm's length. When both these fundamentals are mastered, shooting accurately becomes very easy.
Some tips for improving sight alignment/sight picture:
– The three most important elements in obtaining good sight pictures (alignment and picture) is:
– Concentration on front sight.
– Holding the gun firmly in both hands (firm grip).
– Breath control (relax and exhale when the shot leaves the barrel).
With this three point focus, you will notice considerable improvement in your accuracy.
When using iron sights on a firearm with an open notch and post type of rear sight, concentration upon the front sight blade is most important because it may be possible to see two equally well defined images of the rear sight or one image of each, but not both at the same time due to parallax error.
Therefore, when focusing upon aligning both blades for best sight picture, the shooter's eye must be focused to a pinpoint that will enable the shooter to see two separate images of the blades and not one blade superimposed upon a second.
An unfocused eye will actually cause a displacement or movement of the rear sight because it is being observed as a single image instead of as two separate images. If this occurs, there will be no sharp focus on any part of the front sight blade.
All parts of the blade from its tip to its notch should appear as one clear defined spot with all edges sharp and distinct as well as black in appearance.
This method has been known as peaking – i.e., seeing only part of something – but now is called focusing – i.e., an attempt to focus.
Sight picture when shooting trap
I would like to add some information about the sight picture when shooting trap.
When you are shooting clays in the air, your gun barrel must be directed (or tracked) towards the clay.
Let's call this movement "tracking". The goal of tracking is to keep your gun barrel directed at your target (the clay) all the way until it hits or passes by you.
The shooter's focus is on the correct plane of the clay, which is just above your head.
Maintaining the correct plane of clay is accomplished by keeping your head still and not moving it towards the clay, but rather keeping it "centered" to the clay's flight path while following its flight path until it has passed or been broken.
The underlying concept here is that there are "two planes", one vertical and the other horizontal. One refers to a line going through an object from top to bottom, while the other describes a flat surface going from side to side.
Think about a clock face. The vertical plane bisects a clock at twelve o'clock and six o'clock positions, while the horizontal plane bisects a clock between 3 and 9 o'clock.
In order to shoot a moving clay, the gun barrel must be kept in the correct plane of that clay for as long as possible.
GLOCK Sight Picture Issues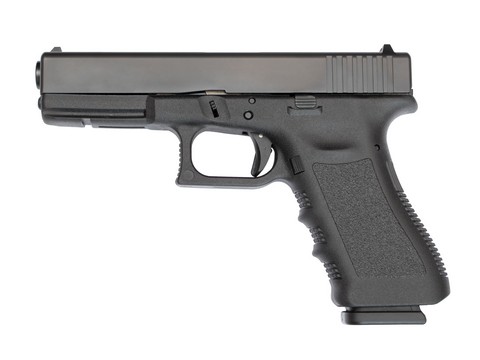 Some people have reported only seeing about half of the front sight dot when their Glock is properly aligned. I have a feeling this problem mainly occurs for people with shorter arms than the average person.
This problem isn't as bad as not being able to see any part of your front sight, but it can still affect accuracy if you're too used to this style of sighting. In order to fix this problem, try adjusting your grip lower down on the gun and allowing yourself more time in order to bring the sights up.
You can replace your Glock polymer sights with iron sights or just get use to how it shoots for you.
Sight picture for red dot sights
Using the same sight picture with differing power red dots gets confusing. You just don't know what your looking at or if that dot is on target !!!
This is why I came up with this system that works with all red dots and optics. The technique uses a 45 degree prism method in which you use the top half of the optic as your point of aim, while keeping the bottom half covered by your non shooting hand thumb.
When aimed properly you will see 3 things…. one dot in the center..two dotted lines running parallel to each other around it . These two dotted lines mimic your front sight post, only as a miniaturized picture for iron sights.
This method is very fast and effective in engaging targets. You keep both eyes open and can instantly aim into the center mass of a target.
It is important to always use this prism when aiming an optic/red dot, even if you use it on a low power setting. The eye sees the same thing every time because it's not your brains job to figure out what power setting you're on or how much magnification you have dialed in .
This eliminates any need to adjust your head or cheek weld making you that much faster. Your brain only needs to tell you where the front sight post 2 dots are focusing.
Summary
The sight picture refers to the view of the rifle with the eye looking through the rear sight. It's also known as "alignment of sights". Where you place your eyes is critical because it has a direct effect on your alignment. Once you've lined up your sights properly, keep both eyes open when shooting. Closing one eye can cause you to misalign your rifle, leading to misses.
The sight picture consists of the rear sight, front sight post and target or aiming point. You want all three to be in focus at the same time for proper alignment.
To achieve this, adjust your position until you get a clear picture of all three elements. If at first you don't succeed, move your position a little closer to the target and try again.
By aligning your sights correctly the bullet should impact the target in or near it's center mass, assuming of course that your rifle is zeroed for the range. This is called "Centering the Bullseye" .
The alignment of sights is very important on your rifle, so don't skip on the details. Watch your sight picture as you move around engaging targets and practice practice practice!
Have you ever thought about buying ammo online?
It's so easy with Lucky Gunner! The ammo shown on their site is guaranteed to be in stock and will ship fast. I whole-heartedly endorse Lucky Gunner, like many of their satisfied other customers:
"Okay, so far I've dealt twice with LuckyGunner, and all I can say is, I LOVE YOUR COMPANY!!!!

Imagine: Only items in stock are advertised. Who'da thunk, eh? The more highly advertised ones – Cheaper Than Dirt, Cabela's, et. al. – will put you on backorder forever and a day. But LuckyGunner – I ordered 500 shells of .45 ACP (hard to get in this "shortage") – and there it was at my address. No backorders, no bull. Business as it should be.

Yes, I'm telling my friends! I'm constantly writing down your addy on bits of paper (and running out of the latter), spreading the joyous news, "No backorders! No bull! Try LuckyGunner.com, you won't be sorry!" Thank you for being there for an ammo-starved public. And, thanks for the SUPERB customer service."

— Walter J., Silverdale, WA —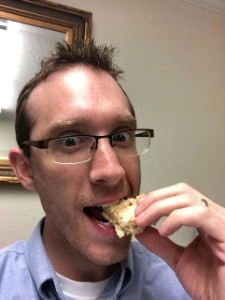 Jason Huskey
Owner of CCWClasses.net
Jason Huskey is a family man with three kids and a wonderful wife. He's always starting new hobbies, but his true passion lies in shooting sports. Jason has been a CCW license holder for over 10 years and carries every day. In addition to firearms, he also enjoys playing guitar and writing songs. He tries to live by the Christian values he believes in.
More things you might enjoy…
Image by MikeGunner from Pixabay I've long since discovered that very few activities give me the same thrill and sense of security as firing a gun. As a gun owner and enthusiast, I've always been curious about which guns can shoot which kinds of ammunition. I have a Derringer five-shot revolver that uses .22 rounds.…